Back to top
Cross Creek Hospital
Accredited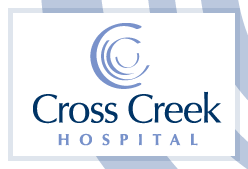 Mailing Address:
8402 Cross Park Dr., Austin, Texas 78754

, United States
Membership Type:
Provider
About This Organization:
Cross Creek Hospital, located in Austin, Texas, is a leading provider of inpatient behavioral health treatment for adolescents and adults who are suffering from mental health concerns and addictions. Our staff works with each patient to create a personalized plan of care based on the results of a comprehensive initial assessment and ongoing evaluations of progress. The medical detoxification program at Cross Creek Hospital is available to support adults in a comfortable and supportive environment with round-the-clock nursing care and daily physician visits. During the detox process, our team works with patients to address both mental and physical healing through therapeutic groups, such as psychotherapy, process, and goals groups, and recreational therapy, including gym time. We offer inpatient programming for adolescents ages 12–17, adults age 18 and older, and a specialized program for senior adults ages 55–85. Our multidisciplinary treatment approach may include individual, group, and family therapies as well as medication management services on an as-needed basis. The primary treatment modalities we use include cognitive behavioral therapy (CBT), didactic therapy, and experiential therapies such as art therapy and yoga. The specific types of therapies that patients receive are based on their individual needs and are outlined in their personalized treatment plans. Throughout the week, we offer a partial hospitalization program (PHP) for adults and an intensive outpatient program (IOP) for adolescents. Both programs include daily group therapy sessions and other activities that teach healthy coping and communication skills, mindfulness, and more. Individual therapy sessions are also available as needed. Additionally, we are proud to offer a telehealth option for patients who are unable to attend outpatient programming in person.
Mission Statement:
To provide the very best care to all individuals who seek services at our facility based on their needs, to create positive outcomes, and to instill hope for their futures.
Accrediting Body:
Joint Commission
Treatment Type:
Inpatient, Inpatient Addiction Treatment, Inpatient Detox, Inpatient Psychiatric Treatment, Intensive Outpatient Program (IOP), Partial Hospitalization Program (PHP)
Recovery Support Services:
Peer Support
Clinical Approach:
Cognitive Behavioral Therapy, Dialectical Behavior Therapy, Twelve Step
Number of Beds:
50-99 Beds
Type of Payment Assistance:
Monthly Payments
Facility Type:
Treatment Center