Zach Snitzer and Sam Bierman launched the Maryland Addiction Recovery Center as a long-term model of care that breaks through the most common barriers leading to relapse.
By Hannah Chenoweth | GameChangers 2021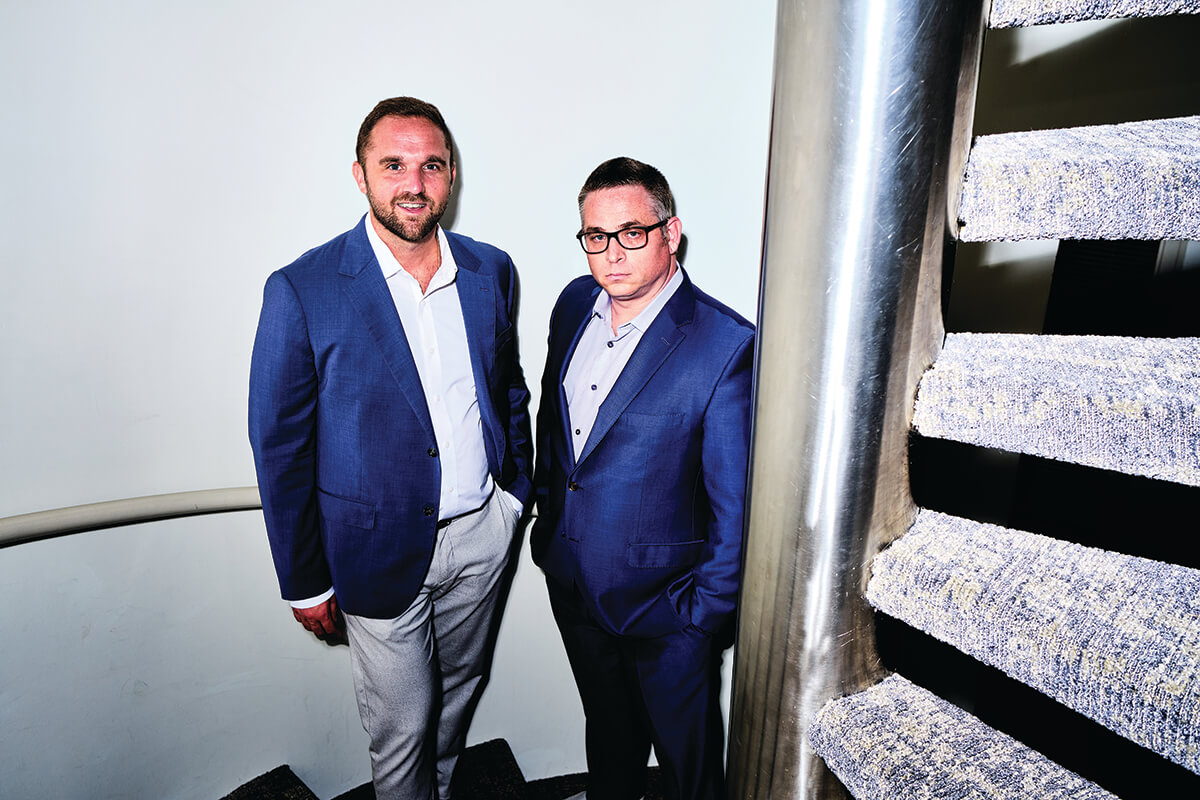 In 2020, the world discovered what Sam Bierman and Zach Snitzer have known for years: Isolation is a major contributor to addiction and mental-health issues.
The co-founders of Maryland Addiction Recovery Center (MARC), who have both walked in the shoes of the individuals they serve, say the challenges brought on by the pandemic only strengthened their resolve to help others achieve long-term, sustainable recovery.
"We burned our lives into the ground, met each other in recovery in South Florida, and realized we needed to do better than the typical 30-day treatment—that's the short version of our origin story," says Snitzer, corporate director of marketing at MARC.
"When people see that we've gone through the same thing and come through the other side, there's that extra shot of hope," adds Bierman, fellow co-founder and executive director at MARC.
In 2013, Snitzer and Bierman launched MARC as a long-term model of care that breaks through the most common barriers leading to relapse. They believe that short-term treatment isn't a magic bullet, and that addiction is a chronic illness that requires long-term support.
While MARC's extended-care program requires a 90-day minimum, most residents opt for a much longer stay.
"It's similar to having roommates in any other apartment-style set-up, but with staff supervision," Snitzer says. "A lot of people come in lacking life skills, so we show them how to clean, budget, cook, and become self-sufficient."
While traditional treatment often occurs in a bubble with well-intended tools that crumble in the face of real-world stressors, MARC views addiction and mental health issues like a 10-spoke wheel—factoring in things like past trauma, unemployment, and family issues.
This long-term model allows participants to practice healthy coping mechanisms and to stumble while still being supported by the team at MARC. This holistic approach, which also includes intensive outpatient program- ming, was recently recognized in Newsweek's "Best Addiction Centers of 2020" awards.
"It's not just that we want you to stop using heroin. When you're with us, you're going to go five steps further so you're set up to hit the ground running," Bierman says. "That way, you're not starting from scratch when you leave. You're already thriving."
MARC places an emphasis on family involvement in treatment: Their philosophy is that "the patient is the family and the family is the patient."
Snitzer and Bierman share that the more the family understands addiction, the more they can help their loved one's recovery.
"With their support, the outcomes are so much better," Bierman says. As the need for treatment services skyrocketed this past year, both co-founders stepped up to the plate to help those who were struggling. In the early weeks of COVID-19, MARC pivoted to virtual services for patients in outpatient programs, while continuing to provide in-person services for patients in long-term extended care.
"Addiction and mental illness are unique for the fact that people wait until stage four to take action," Bierman says. "If you have cancer, no doctor says, 'Let's wait till this progresses.' But families often run into denial and shame, and then it turns into a crisis. There's a lot of interventions we can put in place to make sure someone doesn't hit rock bottom."
Both Snitzer and Bierman are dedicated to showing MARC's patients that addiction is far from hopeless, and that life can still be fun in recovery— pandemic or not.
"There's a misconception that treatment doesn't work. So many people don't realize that addiction has better outcomes when treated appropriately than most other health conditions," Snitzer says. "The right way to do that is a long-term, comprehensive model. Our patients are truly incredible. In recovery, they thrive and go above and beyond what many people do."
For more information on Maryland Addiction Recovery Center: https://www.marylandaddictionrecovery.com/