NAATP National is designed as the leading educational and networking event within the addiction treatment field targeted at the leadership in the field. 
Attendee Demographics 
Typically we hosted around 700 attendees. With conference growth on the rise.
​Our key audience is the leaders and decision-makers in the industry with nearly half of our attendees being C-suite Executive and Business Development.  
The majority of attendees organizations are treatment centers from across the nation. 
Vendors that support the addiction industry are also welcome to attend. 
Exhibitor Demographics 
Historically, we have hosted nearly 115 exhibits. 
Nearly sixty percent of the exhibitors are treatment centers or recovery support organizations while the remaining are vendors that support the industry. 
Reference our past Exhibitor List for specific company details below.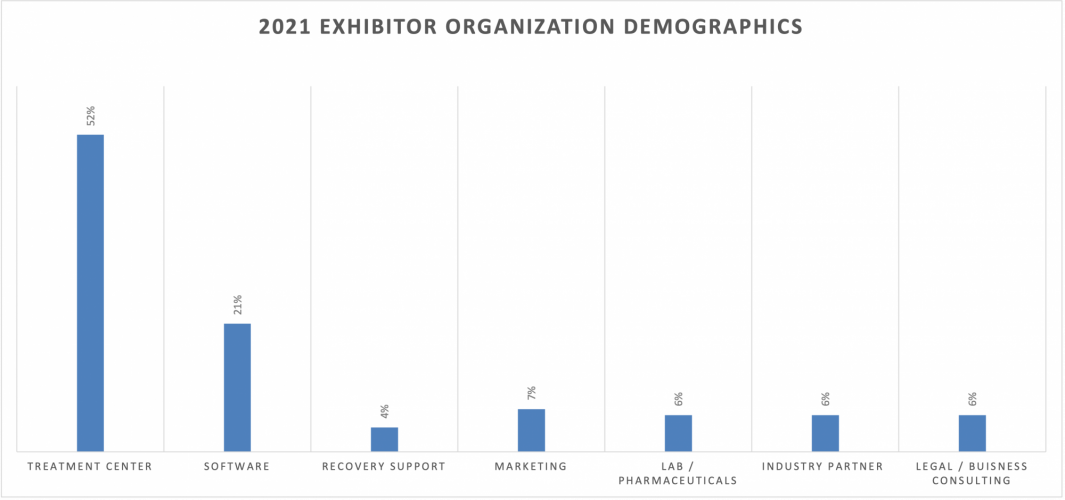 Testimonials
"I have seen NAATP go through a paradigm shift in the last couple of years. Currently, NAATP is the strongest it has ever been with the leadership of the Board of Directors, the leadership with Marvin and our team at NAATP. Together NAATP is making our industry safer, stronger, more ethical. NAATP National is one of the conferences that truly unites NAATP members. It encourages the power of connection, is empowering and inspiring. The people are kind, caring and compassionate. There is something for everyone here at this conference. When I think of NAATP I think of community, family, and synergy. It's a great way to collaborate with treatment providers from across the country and build lasting relationships and that sets it apart from other conferences."
Ruth Ann Rigby 
Director of Business Development, Capstone Treatment Center 
---
"The engagement and conversations are energizing. Seems like more people in the industry that are attending the NAATP National Conference are paying attention to the details, wanting to do the right thing, and trying to make a difference. I hear it, I see it, and I can feel it." 
Kelly Farrell 
CEO & Founder, designRoom 
---
"NAATP National is the only must-do conference we attend each year on behalf of New Directions for Women. Having attended for the last 9 years, the quality and benefits of the conference continue to grow each time. I know I'll see many old friends, and also meet new business contacts that I stay in a relationship with over time. The break-out sessions are always timely, informative, and I find myself referring back to those notes throughout the year."
Tania Bhattacharyya
Executive Director, NDFW Foundation
---
"The National Association of Addiction Treatment Providers (NAATP) has been a strong voice representing the addiction treatment industry for over 40 years. I've attended all of the national addiction conferences and there is no better place than NAATP National to surround yourself with the executives, practitioners, and scientists who define best practices in our field. If you want to affiliate your company with the best, this is the place to be."
Bill Calhoun
Vice President, The Change Companies®